Shopping Cart: Empty
->
Cactus & Succulents
->
Other Succulents
Kaktusy - Special 2 The Agave utahensis Engelmann Complex

Author: Zlatko Janeba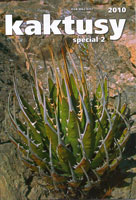 From the forward:

"In this extra special issue of our journal, I would like to introduce you to a very attractive informal and unranked infrageneric group of agaves which was called the Urceolatae by Gentry, whose type species, Agave utahensis, occurs in south-western USA. They are interesting from both a biological and horticultural point of view. I often used to encounter these wonderful agaves during my endless roaming through the marvelous deserts of south-western USA, where I have studied them at about 30 localities. In this modest publication, I would like to highlight their great beauty and variability, and to illustrate their habitats."

Over 50 beautiful and illustrative photos grace the text of this special issue. A key to and description of the taxa is followed by distribution details, a look at companion plants, and cultivation information.
List Price: $16.75
Your Low Price: $14.95
In Stock Now!
Specific Details
Softcover: 35 pages
Illustrated
Title: Kaktusy - Special 2
Author: Zlatko Janeba
Publisher: Kaktusy
Date: 2010
ISBN 10:
ISBN 13:
Language: English
Weight: 0 lbs 3.0 ounces