->
Orchids
Wild Orchids of the Prairies and Great Plains Region of North America

Author: Paul Martin Brown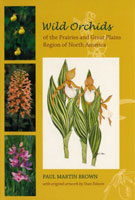 Native orchid expert and author Paul Martin Brown continues his successful series on the wild orchids of North America with Wild Orchids of the Prairies and Great Plains Region. Whether beginner or professional, curious orchid hunters will be able to locate the more than 64 species, 9 varieties, 8 hybrids, and 71 forms to be found in the wide variety of this region's local habitats. Brown reveals the best spots to search for the orchids he describes and offers expert advice on how to plan and execute an enjoyable (and environmentally responsible) outing. As in Brown's previous guides, all information is presented in a simple, straightforward style and with ample illustration for proper identification.

Each species and variety is colorfully illustrated with photographs, a diagnostic line drawing, a distribution map, and a complete description of its habitat, range, and flowering time. Specific attention has been paid to the numerous growth and color forms, and a full, detailed list of synonyms for each species is included in a separate section. Brown discusses new concepts in taxonomy and the place of hybrids and provides a comprehensive list of recent literature references and a bibliography. He also addresses the unique species found in the continent's isolated prairie regions, including the "prairie islands" of the southeastern United States.

Geographical coverage includes North Dakota, South Dakota, Nebraska, Kansas, Oklahoma, Missouri, Arkansas, Wisconsin, Illinois, Minnesota, the prairies and plains portions of Texas, New Mexico, Louisiana, Colorado, Wyoming, Montana, and similar areas in the Canadian provinces of Alberta, Saskatchewan, and Manitoba.
List Price: $29.95
Your Low Price: $27.95
In Stock Now!
Specific Details
Softcover: 352 pages
Illustrated
Title: Wild Orchids of the Prairies and Great Plains Region of North America
Author: Paul Martin Brown
Publisher: University Press of Florida
Date: 2006
ISBN 10: 0813029759
ISBN 13: 9780813029757
Language: English
Weight: 1 lbs 10.4 ounces