Shopping Cart: Empty
->
Garden/How To
Native Harvest Authentic Southwestern Gardening

Author: Kevin Dahl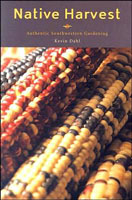 With this exciting book you can create a connection to tradtional and contemporary cultures in your own backyard. Native Harvest explains in a clear and straightforward way that anyone can grow foods and other plants that have traditionally grown in the American Southwest. Learn to grow Hopi Blue Corn or the evocatively named Tohono O'odham Yellow Meated melon.

Native Harvest highlights individual plant, exploring the plant's cultural history and traditional uses, as well as providing easy-to-follow planting instructions. It's the best first step to your own authentic southwestern garden.
List Price: $7.95
Your Low Price: $6.50
In Stock Now!
Specific Details
Softcover: 64 pages
Illustrated
Title: Native Harvest
Author: Kevin Dahl
Publisher: Western National Parks Association
Date: 2006
ISBN 10: 1583690603
ISBN 13: 9781583690604
Language: English
Weight: 0 lbs 5.8 ounces