Shopping Cart: Empty
->
Cactus & Succulents
->
Cactus Only
Saguaro The Desert Giant

Author: Anna Humphreys, Susan Lowell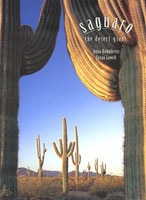 Ask a child to draw a picture of a cactus, and the result will probably look like a saguaro. Indeed, mass media have made this denizen of the Sonoran Desert universally recognizable, and perhaps just as misunderstood. In Saguaro: The Desert Giant, Anna Humphreys and Susan Lowell share true stories about this amazing, anthropomorphic cactus that are at least as intriguing as the folklore. A saguaro can grow to be a towering fifty feet or more and live for as long as two centuries. During rainy seasons, a large saguaro can soak up literally hundreds of gallons of water in its expandable, accordion-folded trunk and arms. For uncounted generations, the Tohono O'odham people in Arizona have harvested the sweet saguaro fruits to make syrup and wine. Profusely illustrated with contemporary and historic photographs and other artwork, Saguaro: The Desert Giant celebrates these iconic cacti while arguing that the need to preserve their critical Sonoran Desert habitat is more pressing now than ever.
List Price: $10.95
Your Low Price: $10.95
This item is on order with publisher
new orders will ship upon arrival.
Specific Details
Softcover: 64 pages
Illustrated
Title: Saguaro
Author: Anna Humphreys, Susan Lowell
Publisher: Rio Nuevo Publishers
Date: 2002
ISBN 10: 1887896309
ISBN 13: 9781887896306
Language: English
Weight: 0 lbs 11.1 ounces