Shopping Cart: Empty
->
Cactus & Succulents
->
Cactus Only
Ferocactus

Author: John Pilbeam and Derek Bowdery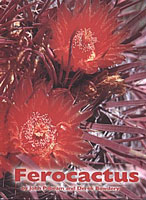 Ferocactus is not part of "The Cactus File Handbook" series, but it very well could be. That is the organization is consistent with that series making it very user-friendly. Pilbeam again employs his organizational skills to make understanding the genus Ferocactus as easy as such a thing can be. The book is 116 pages long and is primarily devoted to the identifying description of every known species of the genus. There are many large pictures throughout - mostly of habitat plants. For each species a distribution map is given which is a great aid for those visiting the plants where they grow. At the front of the book, before getting into species descriptions, 16 pages of other useful information is provided. This includes an overview of the species, classification explanations with a key to the species and even cultivation tips. For those looking for more detailed information on Ferocactus than the more general cactus books provide, this 2005 BCSS publication is an excellent resource.
List Price: $59.95
Your Low Price: $55.00
This item is on order with publisher
new orders will ship upon arrival.
Specific Details
Hardcover: 116 pages
Illustrated
Title: Ferocactus
Author: John Pilbeam and Derek Bowdery
Publisher: British Cactus and Succulent Society
Date: 2005
ISBN 10: 0902099760
ISBN 13:
Language: English
Weight: 1 lbs 2.4 ounces