Shopping Cart: Empty
->
Cactus & Succulents
->
Cactus Only
Die Ferokakteen der Baja California The ferocacti of Baja California

Author: Franziska Wolf, Richard Wolf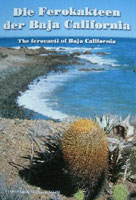 This bilingual book bears the German title of Die Ferokakteen der Baja California on the cover along with the English translation. Even if this book were not written in both languages, it would be worth the purchase for its photographs alone. Every species of ferocactus that grows on the Baja California peninsula and surrounding islands is meticulously described along with information on nomenclature and habitat. There are over 340 beautiful color photos that illustrate entire plants at various ages and of various types. This book goes to great length to show the forms, subspecies, and other subdivisions of each species. These images in combination with flower close-ups and even seed photos ensure proper identification. While habitat shots, those of neighboring vegetation, and even local people and animals give the feeling of being there. Finally there are distribution maps to show the wild range of both species and/or subspecies.
List Price: $99.99
Your Low Price: $89.95
This item is on order with publisher
new orders will ship upon arrival.
This title is currently inactive.
Specific Details
Hardcover: 240 pages
Illustrated
Title: Die Ferokakteen der Baja California
Author: Franziska Wolf, Richard Wolf
Publisher: Wolfs
Date: 2004
ISBN 10: 3200001607
ISBN 13: 9783200001602
Language: English
Weight: 1 lbs 14.8 ounces