Shopping Cart: Empty
->
Cactus & Succulents
->
Cactus Only
Rebutia

Author: John Pilbeam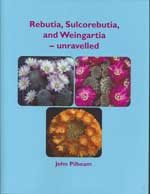 The second in a series of books called "The Cactus File Handbook" which specializes in specific cacti genera and some other succulents. As with all books in this series, Rebutia by Pilbeam is packed with just about everything you could want to know about the genus it describes. The book starts with an overview of the genera; history, geography, cultivation, and taxonomy. Next are the species and subspecies listed alphabetically and superbly described. Each species/subspecies is represented with at least one picture (every one in flower) as well as range maps showing distribution in the wild, lengthy descriptions, and field collection data. Following this section is an index of "superfluous or dubious names and hybrids". Altogether this soft-cover book is 160 pages with 139 color photos and was published in 1997. Note: It does not contain those species that have been classified as Sulcorebutia.
List Price: $65.00
Your Low Price: $59.95
This item is on order with publisher
new orders will ship upon arrival.
This title is currently inactive.
Specific Details
Softcover: 160 pages
Illustrated
Title: Rebutia
Author: John Pilbeam
Publisher: Nuffield Press
Date: 1997
ISBN 10: 0952830221
ISBN 13: 9780952830221
Language: English
Weight: 0 lbs 14.3 ounces