Shopping Cart: Empty
->
Cactus & Succulents
->
Cactus Only
The New Cactus Lexicon (2 Volume Set)

Author: David Hunt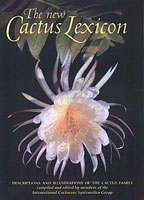 Published in 2006, this two-volume work ("NCL" for short) is the first scientifically authoritative conspectus of the Cactaceae since Britton & Rose's famous monograph nearly a century ago and the benchmark reference for everyone with an interest in the diversity, identification and conservation of cacti.

The "Text" volume is a concise compendium of information on cactus genera, species and subspecies accepted in the standard literature on cacti, including references to places of publication, principal synonyms, geographical distribution, diagnostic features and brief commentary, The companion "Atlas" volume (not available separately) contains more than 2500 colour illustrations of nearly all currently recognized species and subspecies, mostly of plants in habitat or from documented plants in cultivation.

The work is the latest and most comprehensive overview of the cactus family resulting from the collaboration of professional and amateur enthusiasts led by David Hunt, initially as compiler and ultimately as publisher, with editorial assistance from Nigel Taylor and Graham Charles, and the support of more than 130 contributors of illustrations, text and comments, many of them members of the International Cactaceae Systematics Group, an informal group founded in Zurich in 2000 to supersede the former Cactaceae Working Party of the International Organization for Succulent Plant Study (IOS) founded in 1984.

Limited stocks of the first edition remain (for prices see below). A supplementary volume, in preparation, will include updated accounts of several genera, taking into account new discoveries and molecular evidence, plus expanded geographical data and distribution maps and approximately 500 further color illustrations.
List Price: $250.00
Your Low Price: $199.95
This item is on order with publisher
new orders will ship upon arrival.
This title is currently inactive.
Specific Details
Hardcover: 899 pages
Illustrated
Title: The New Cactus Lexicon
Author: David Hunt
Publisher: dh Books
Date: 2006
ISBN 10: 0953813444
ISBN 13:
Language: English