Shopping Cart: Empty
->
Cactus & Succulents
->
Cactus Only
Rhipsalis & Lepismium

Author: Frank Supplie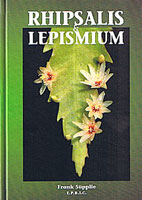 This book is bilingual and each page is split into two colums with German on the left and English on the right. He starts of with a history of discovery then discusses general distribution of the two genera. Next, he includes a Q&A style interview with a large Rhipsalis grower from the Netherlands, giving the reader a unique look into another grower's experience. Next is a fair discussion on cultivation specific to these epiphytic cacti followed by propagation infomation. Supplie then includes an exhaustive section on "Diseases and Plagues" that should prepare the reader for pretty much any problem that might come thier way. After all this information, Supplie then describes the species in each genera, starting with Lepismium followed by Rhipsalis. He includes a description and comments for each species. Illustrations are mostly grouped together seperately from the text with some included elsewhere. All in all, this book is one of the few resources available for those who want information on these often overlooked genera.
List Price: $35.95
Your Low Price: $29.95
This item is on order with publisher
new orders will ship upon arrival.
This title is currently inactive.
Specific Details
Hardcover: 144 pages
Illustrated
Title: Rhipsalis & Lepismium
Author: Frank Supplie
Publisher: E.P.R.I.C.
Date: 0
ISBN 10: 9057164981
ISBN 13: 9789057164989
Language: English
Weight: 0 lbs 14.0 ounces