Shopping Cart: Empty
->
Cactus & Succulents
->
Cactus Only
The Genus Turbinicarpus

Author: Milan Zachar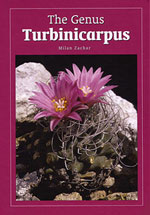 Milan Zachar decided to include the broad range of species within his coverage of the genus Turbinicarpus. That includes those considered by many collectors as Gymnocactus and Rapicactus. Each species is described in detail and includes many notes from Zachar's extensive time in the field. Aside from several trips to the habitat, Zachar lived in Mexico for four years while he engaged in intense research of these plants. Original descriptions in Latin are included and even climate graphs for various regions where the species occur. Photos are plentiful of these plants in habitat. The Genus Turbinicarpus is 144 pages and a useful addition for those wanting to better understand this taxonomically controversial grouping of cacti.

Few copies left!
List Price: $49.95
Your Low Price: $48.00
This title is now permanently out of stock
This title is currently inactive.
Specific Details
Hardcover: 144 pages
Illustrated
Title: The Genus Turbinicarpus
Author: Milan Zachar
Publisher: Spolocnost Cactaceae etc.
Date: 2004
ISBN 10: 8085441233
ISBN 13:
Language: English
Weight: 1 lbs 15.3 ounces