Shopping Cart: Empty
->
Cactus & Succulents
->
Cacti and Succulents
Growing Cacti & Succulents

Author: Various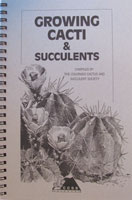 How-to books compiled by society members are often the best as the data is often presented in most practical language backed by first-hand experience. Such is the case with this little spiral-bound book. Included are the following articles, illustrated with black and white line drawings:

Enjoy Your Hobby
So You Want a Greenhouse
Cactus Culture
Those Little Buggers
Growing Cacti and Other Succulents from Seed
Caring for Container-Grown Cacti
Growing Winter-Hardy Opuntias in Pots
Winter-Hardy Cactus Garden
Growing Winter-Hardy Cacti and Other Succulents Outdoors in Western Colorado
List Price: $12.00
Your Low Price: $10.95
In Stock Now!
Specific Details
Softcover: 91 pages
Illustrated
Title: Growing Cacti & Succulents
Author: Various
Publisher: Colorado Cactus and Succulent Society
Date: 2002
ISBN 10:
ISBN 13:
Language: English
Weight: 0 lbs 5.0 ounces