Shopping Cart: Empty
->
Cactus & Succulents
->
Cactus Only
Japanese Hybrid Astrophytum

Author: Roman Pavlica, Sumiriro Saeki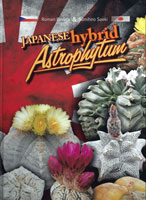 This book provides a highly visual journey into the hybrids of the genus Astrophytum. The long history of mostly Japanese growers is highlighted in over 1600 color photographs and illustrates the staggering variety of body forms and flowers that have been created. The authors' love for the plants is clearly evident in the details that are described and shown throughout the book. It is hard to imagine any other plant genus with such an incredible variety of striking shapes and colors as this ironically small genus within the cactus family.
List Price: $84.95
Your Low Price: $84.95
This item is on order with publisher
new orders will ship upon arrival.
Specific Details
Hardcover: 314 pages
Illustrated
Title: Japanese Hybrid Astrophytum
Author: Roman Pavlica, Sumiriro Saeki
Publisher: Author
Date: 2015
ISBN 10:
ISBN 13:
Language: English
Weight: 3 lbs 6.0 ounces