Shopping Cart: Empty
->
Cactus & Succulents
->
Cactus Only
Mammillaria The Cactus File Handbook 6

Author: John Pilbeam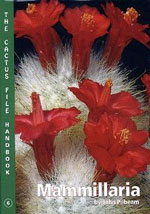 Due to the large number of species, Mammillaria plants are certainly one of the most difficult of all cacti species to properly identify with the possible exception of the other massive and poorly described genus - Opuntia. There is no question this number 6 book in "The Cactus File Handbook" series published in 1999 will make ID much easier. This particular book differs from other books in the series being hardcover and larger; a total of 376 pages. Pilbeam hits the genus head-on with full descriptions, distribution maps, and photos for each species. There are 425 color photos in all; often more than one for each species and almost always in flower. Despite the size of this work, Pilbeam's Mammillaria stays true to form with an overview of the genus, an index of superfluous names/synonyms, and a list of field collection data. This book is sure to hold a premium spot on the bookshelf of any Mammillaria enthusiast who owns a copy of it.
List Price: $119.99
Your Low Price: $89.95
This item is on order with publisher
new orders will ship upon arrival.
This title is currently inactive.
Specific Details
Hardcover: 376 pages
Illustrated
Title: Mammillaria
Author: John Pilbeam
Publisher: Nuffield Press
Date: 1999
ISBN 10: 0952830280
ISBN 13:
Language: English
Weight: 3 lbs 6.1 ounces